In the Press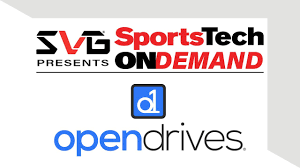 In an effort to keep the broadcast-technology community informed this spring, throughout April, SVG is hosting a series of SportsTech On Demand video interviews with executives from the industry's top technology vendors discussing their latest product releases and company news. Our Jason Dachman sat down with Sean Lee, Chief Strategy and Product Officer, OpenDrives, about the company's efforts.
Lee discusses how OpenDrives is continuing to support its customers 24/7 through the pandemic, and teases a forthcoming new product launch with new hardware, new form factor alongside a big software release, new software features, and a new UI. Finally Lee, also touches on the OpenDrives Anywhere initiative – the company's workflow for remote working with OpenDrives, allowing creatives to continue working collaboratively and concurrently without any loss in performance, from home.
Click below to watch the 'SVG SportsTech On Demand' video.