Press Release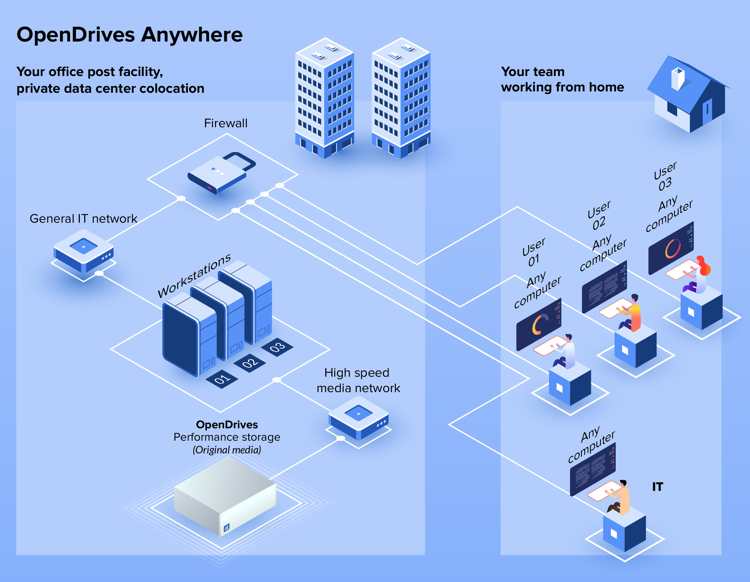 Solutions to work on same project from multiple locations, without compromises in performance.
OpenDrives LLC is delivering OpenDrives Anywhere, an in-place private cloud model that enables customers with the company's solutions to work on the same project from multiple locations, without the compromises in performance.
With COVID-19 corporate shut downs and a massive shift to remote or furloughed workforce, the post-production industry and their teams have been one of the hardest hit. Studios are scrambling for solutions with a limited remote workforce that allows post-production projects to continue while maintaining social distance.
Most businesses have already built out costly physical infrastructures to meet the demands of content pipelines, but haven't worked through the difficult task of implementing and supporting remote workflows. Project leads are now scrambling for 'remote solutions' – looking to more traditional 'Take Out' and Cloud' models – which can be prohibitive in performance, collaboration, cost-efficiency and setup.
The company has developed a third option – OpenDrives Anywhere – that provides remote workers with the capabilities and performance necessary to carry out workflows, without any of the compromises. Every firm's shared storage solution can deliver this capability and remote workflow as is for existing customers as their own in-place private cloud.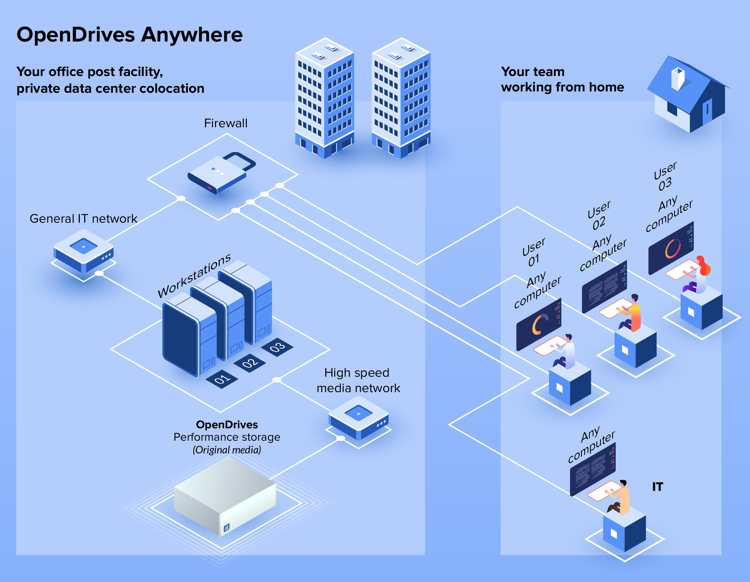 "Opendrives was founded by veteran Hollywood film editors, colorists, data engineers to studio heads, and everything in-between. This gives us a unique understanding of the pain points teams are facing and the critical demand for a 'new normal' to keep our industry alive now and into the future," said Sean Lee, chief product and strategy officer. "We've done extensive testing to ensure OpenDrives Anywhere meets the same level of performance customers deserve and need… right here, right now."
The company's views performance holistically. An editor needs to be able to sit down at a workstation, tap the spacebar, have video play instantaneously, scrub flawlessly, and render at top speeds without worrying about all the IT logistics. With existing office infrastructure, teams have an in-place private cloud and can extend its power to each of your remote professionals. No reinvestment in storage is needed – the firm supports this infrastructure with the performance teams expect and need.
Nothing changes from a workflow perspective except physical proximity. With simple adjustments, remote control of existing enterprise workstations can be extended via a secure connection. HP's ZCentral Remote Boost (formerly RGS) software will facilitate remote access over secure connection to your workstations, or Teradici Corp. can provide both dedicated external hardware and software solutions for this purpose, giving the ability to support organization's collaborative workflows at low cost. The company can also get teams set up in under 2 hours on corporate VPN and under 24 hours without. OpenDrives Anywhere is available to existing and new customers.