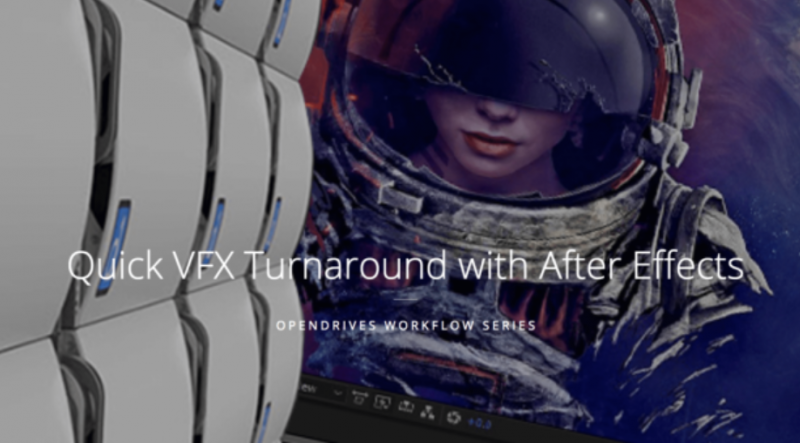 Quick VFX Turnaround with After Effects
Visual effects (VFX) are a necessary but very costly part of film production.  Audiences demand increasingly sophisticated and life-like effects, so production companies really don't have a choice in the matter—they must continually up their VFX game with each consecutive production.  But we're not talking about visual effects just for the sake of effects, though.  VFX adds creative freedom to the storytelling process, makes possible scenes and actions that would be otherwise impossible to create, and ultimately makes for much better and enjoyable movies.  Without a doubt, visual effects can make or break the final production.
The sobering reality is that producing and implementing those effects during post-production activities drives up costs dramatically.  One of the mostly costly variables in the overall production budget equation is raw time spent during post-production.  The cost of skilled post-production professionals working on collaborative teams on compositing, editing, and review is high, so time wasted is money wasted.  It might go without saying, but let's say it anyway:  speed is critical during the post-production phase for many reasons, including keeping costs in check.
Accelerating the VFX workflow can most effectively be accomplished with cost-effective software suites leveraging robust storage infrastructures.  Adobe After Effects is one of these software suites.  After Effects is a digital visual effects application enabling artists to create effects and add motion to a project.  Implemented in conjunction with OpenDrives storage solutions, which are engineered for speed, bandwidth, and overall performance, Adobe After Effects helps artists and editors work collaboratively, not reactively.  With this software and infrastructure combination, artists and editors can be brought together under one roof to work harmoniously together, accessing the same project files and materials with no logistical delays.  The entire workflow can be maintained in-house, not sent out-of-house because the infrastructure can't support it.
This is the same workflow that OpenDrives helped David Fincher implement during projects such as Gone Girl.  OpenDrives storage solutions facilitated concurrent editing, VFX, and compositing of different shots without any loss of performance from local workstation to the centralized network repository.  VFX shots and composites were completed in-house in parallel with editing.  This workflow drastically reduced time during this phase of post-production.  And as we already mentioned, time is money.